Say goodbye to the days in which evaluating our health is entirely dependent upon annual checkups at the doctor's office. The technology boom of the 21st century has led to a dramatic increase in wearable devices and mobile applications that are redefining the way we think about and measure our health. Over the last decade, the quantified self (QS) movement has developed into a mainstream phenomenon, with about 60% of adults currently tracking aspects of their health, including diet, weight, and/or exercise routine (1). Quantified self-care relies on the user to take charge of their health and well-being (2) through the use of wearables and/or mobile health-tracking applications (apps). Collecting data about daily lifestyle behaviors has been shown to lead to an increased awareness of the self by allowing the user to understand what variables impact their daily lives (3).
The allure of the quantified self is a guess that many of our problems come from simply lacking the instruments to understand who we are. (4)
QS devices have features that allow the user to set daily goals and reminders, monitor habits, and some can even identify what habits/behaviors the user engages in that are associated with positive improvements in your health and fitness (2). Through the use of motivational triggers, these devices can motivate users to achieve goals and monitor progress. Self-monitoring allows the user to understand how specific lifestyle choices are associated with reaching (or not reaching) goals. The theory of self-regulation indicates that through self-monitoring, long-term success associated with behavioral change becomes possible. (5)
This ability to quantify our health behaviors through numbers helps the user to make better decisions and create an action plan about how to become the best and healthiest versions of themselves.
---
What health behaviors can you reasonably track with QS devices?

Historically, the four major areas that companies have been targeting are related to exercise, diet/weight loss, and sleep, with hydration being the most novel of the four. The importance of each of these avenues of health will be discussed below:
---
According to the latest statistics released by the World Health Organization (WHO), healthy adults aged 18-64 should be doing at least 150-300 minutes of moderate-intensity physical activity per week. Unfortunately, more than a quarter of the adult population in the world are not reaching these physical activity recommendations. Prolonged levels of physical inactivity have been shown to lead to higher rates of mortality (6). Various studies on wearables, such as FitBit, Apple Watch, Garmin, Oura, and WHOOP, have shown that utilizing mobile health technology can help to promote positive behavioral change, increase physical activity, and can promote weight loss (7, 8). Through the evaluation of fitness metrics such as distance walked/ran, calorie consumption, and heart-rate variability (9), measurement of activity levels has become one of the most commonly stated rationales for owning a QS device.
Diet tracking as a form of weight loss/management has become an increasingly common feature of mobile health interventions (10). A study conducted by Patel et al. found that 1 in 4 individuals was consistently engaged in diet tracking via a mobile app during a 12-week intervention (5). When tracking your food intake and calorie consumption, mobile apps can provide input and understanding on dietary patterns (10). Long-term mobile self-monitoring of food and calorie consumption allows the user to understand how eating behaviors affect weight, which is becoming increasingly important as the obesity rates in the U.S. are rising exponentially.
Sleep disturbances have a profound effect on mental and physical health (11, 12) and can also impact alertness and performance quality (12). Despite these shortcomings associated with lack of sleep, approximately 35.2% of American adults are not getting enough sleep each night (sleep foundation). Wearables, such as the WHOOP Strap and Oura Ring, provide a unique opportunity to obtain an objective measurement of sleep outside of a healthcare setting (13). A study by Berryhill et al. utilized a wearable (WHOOP Strap 2.0) on healthy participants and found that wearables are effective at measuring sleep and can have a direct, and positive impact on sleep quality for users (14). Knowledge of one's sleep habits can have a direct, positive impact on health, wellness, and behavioral lifestyle choices (12).
Approximately 20% of adults are dehydrated, which suggests a significant global health concern (15). Dehydration is associated with negative outcomes, such as reduced cognitive function and obesity (15). Fluid intake is also important for maintaining healthy heart and liver function (16). Managing fluid intake is one solution in helping individuals to increase their frequency of hydration. However, adequate hydration needs vary from person to person and rely on factors such as personal sweat rate, exercise mode, exercise intensity, environmental conditions, and exercise duration (17). Mobile health monitoring of hydration via the use of a 'smart' water bottle is novel to the QS market but has the potential to provide a positive impact on its user. Smart water bottles are an innovative way of tracking fluid intake and daily hydration goals.
---
Which Quantified Self User are you?  
Whether you are a user who is trying to maximize performance or just someone who wants to learn how to improve your general health, there is a QS bundle out there that is customizable to your own life and can be adapted to encourage real behavioral changes. We have developed four different Quantified-Self user-profiles and have determined what quantified-self bundle would be appropriate for each of these users:
---
The Active Fitness Enthusiast

The QS Power User Athlete
This individual rarely works out but is interested in dipping their toes into the world of mobile health and wants to learn more about monitoring their health/wellness.
This individual works out occasionally, is interested in monitoring their health/wellness, sleep, and workouts. This individual has more experience with mobile health than the casual usual and likely already owns a Fitbit or Apple Watch. This individual is also one who carries a water bottle with them most days.
This individual works out about 5 days per week and is already tracking their fitness metrics. However, this individual is interested in getting more deeply involved in the quantified self-world and is adding sleep tracking into their daily routine as well. This individual carries a water bottle with them almost everywhere and does their best to stay hydrated every day.
This individual is very active and has been an active Quantified-self user for several years. This individual currently owns a variety of quantified self devices that track everything from fitness, nutrition, sleep, weight, and blood pressure. This individual already knows hydration is a huge factor and is trying to manage it with a variety of methods.
---
Below are examples of Quantified-Self Bundles for each QS User Profile listed above.
| | | | | | |
| --- | --- | --- | --- | --- | --- |
| | Activity Tracker | Hydration | Sleep | Weight/BMI | Blood Pressure |
| | | | | | |
| | | | | | |
| Active Fitness Enthusiast | Whoop, Oura, or Apple Watch | | | | |
| | Whoop, Oura, or Apple Watch | | | | Withings Blood Pressure Cuff |
---
Healthcare in and of itself is not a one size fits all model, especially when it comes to mobile health. Content and delivery of interventions should be personalized to the individual's needs, behaviors, goals, and perceived barriers to implementation. When taking into consideration each of these aspects, the user is more likely to experience the lasting, positive, behavioral change!
---
Please utilize these infographics on your journey to better hydration!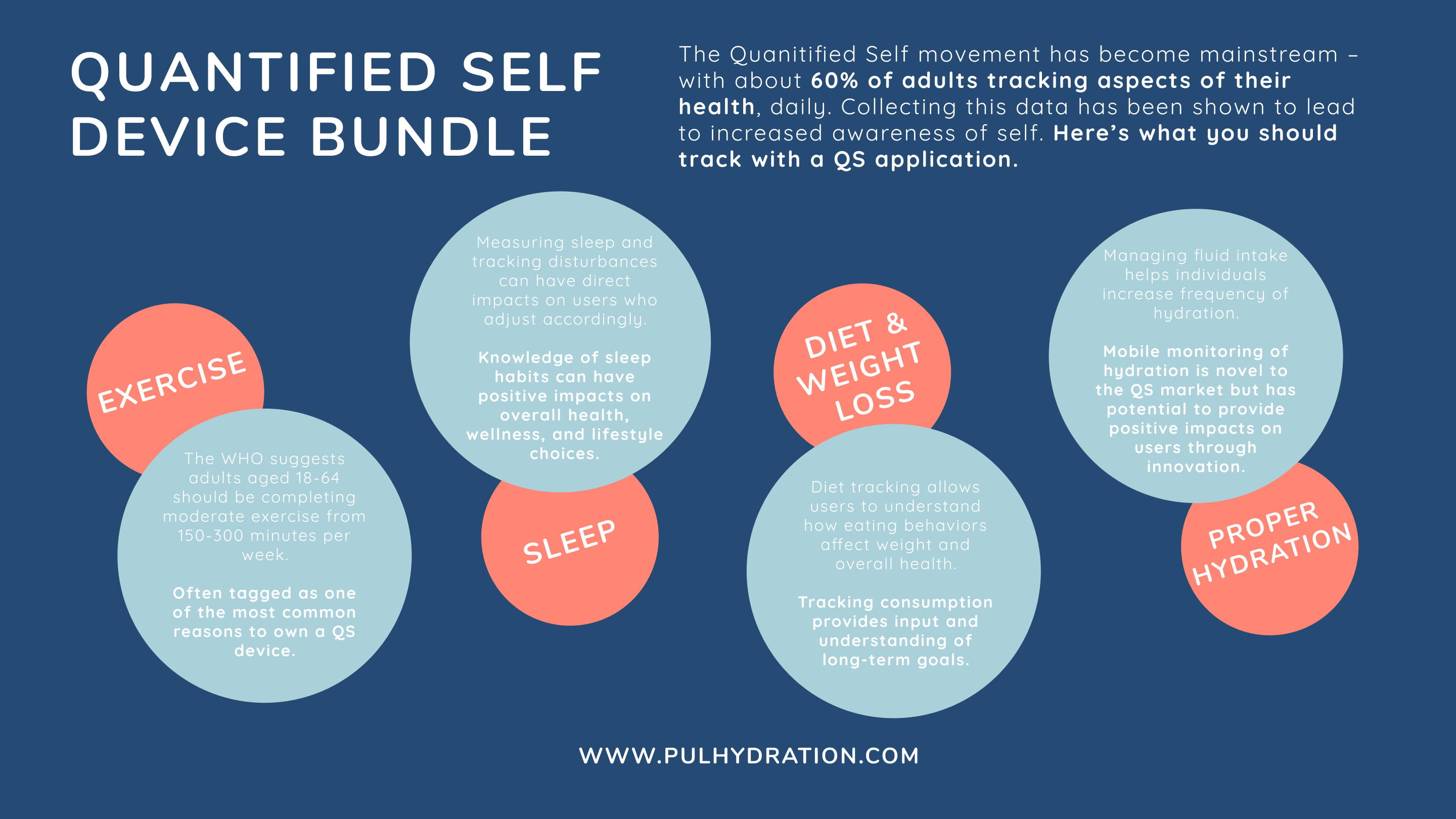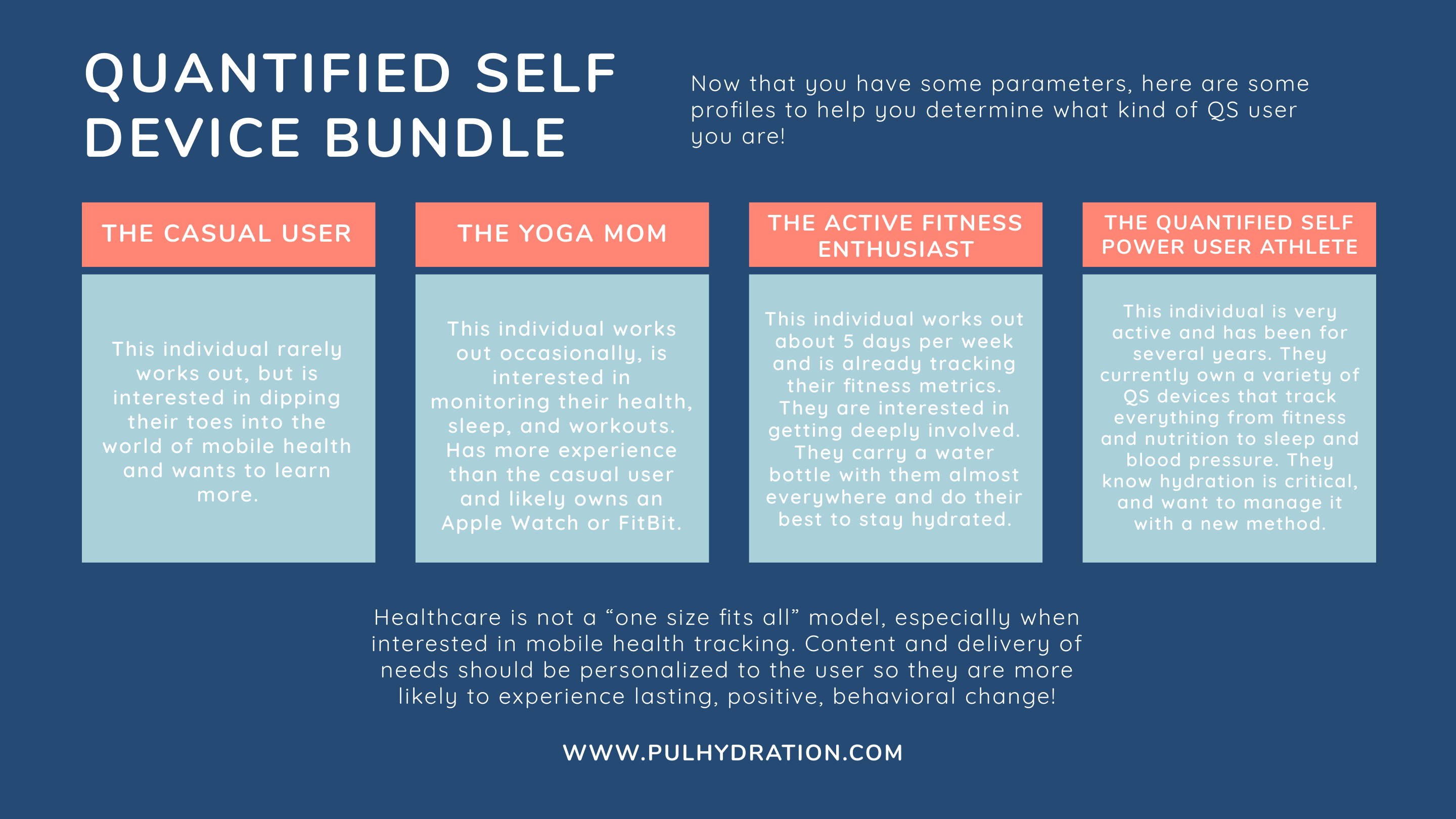 ---
Swan M. The quantified self: Fundamental disruption in big data science and biological discovery.

Big Data

. 2013; 1(2): 85-99.

Ajana B. Digital health and the biopolitics of the quantified self.

Digital Health.

2017; 3: 1-18.

Danaher J, Nyholm S, Earp BD. The quantified relationship.

The American Journal of Bioethics.

2018; 18(2): 3-19.

Hoy MB. Personal activity trackers and the quantified self.

Medical References Services Quarterly.

2016; 35(1): 94-100

Patel ML, Brooks TL, Bennett GG. Consistent self-monitoring in a commercial app-based intervention for weight loss: results from a randomized trial.

J Behav Med

. 2020; 43: 391-401.

Henriksen A, Mikalsen MH, Woldaregay AZ, Muzny M, et al. Using fitness trackers and smartwatches to measure physical activity in research: Analysis of consumer wrist-worn wearables.

J Med Internet Res

. 2018; 20(3): 1-19.

Cheatham SW, Stull K. The efficacy of wearable activity tracking technology as part of a weight loss program: A systematic review.

J Sports Med Phys Fitness.

2018 58(4): 534-48.

Dooley EE, Golaszewski NM, Bartholomew JB. Estimating accuracy at exercise intensities: A comparative study of self-monitoring heart rate and physical activity wearable devices.

JMIR Mhealth Uhealth

. 2017; 5(3): e34.

Kaewkannate K, Kim S. A comparison of wearable fitness devices.

BMC Pub Health.

2016; 16: 433.

Ferrera G, Kim J, Lin S, Hua J, Seto E. A focused review of smartphone diet-tracking apps: Usability, functionality, coherence with behaviour change theory, and comparative validity of nutrient intake and energy estimates.

JMIR MHealth UHealth.

2019; 7(5): e9232.

Aledavood T, Torous J, Hoyos AMT, Naslund JA, Onnela J-P, Keshavan M. Smartphone-based tracking of sleep in depression, anxiety, and psychotic disorders.

Current Psych Reports

. 2019; 21: 49-57.

Chinoy ED, Cuellar JA, Huwa KE, Jameson JT, et al. Performance of seven consumer sleep-tracking devices compared with polysomnography.

Sleep J

. 2020: 1-16.

Miller DJ, Lastella M, Scanlan AT, Bellenger C, et al. A validation study of the WHOOP strap against polysomnography to assess sleep.

J Sports Sci.

2020; 38(22): 2631-2636

Berryhill S, Morton CJ, Dean A, Berryhill A, et al. Effect of wearables on sleep in healthy individuals: A randomized crossover trial and validation study.

J Clin Sleep Med.

2020; 16(5): 775-783.

Griffith H, Shi Y, Biswas S. A container-attachable inertial sensor for real-time hydration tracking.

Sensors

. 2019; 19: 4008-4025.

Huang H-Y, Hsieh C-Y, Liu K-C, Hsu SJ-P, Chan C-T. Fluid intake monitoring system using a wearable inertial sensor for fluid intake management.

Sensors.

2020; 20: 6682-91.

Belval LN, Hosokawa Y, Casa DJ, Adams WM, et al. Practical hydration solutions for sports.

Nutrients

. 2019; 11(1550): 1-15.